By
Greg Wallace
The moment passed so quickly, so anonymously, that most of the college football world outside of the Bay Area probably barely took notice.
Late in the first half of the annual Big Game between Cal and Stanford on Oct. 20, 2012, Stanford starting center Sam Schwartzstein's helmet flew off. By rule, he was forced to sit out a play before re-entering the game.
No big deal, right? For most of us, yes.
For Conor McFadden, it was a huge deal.
See, McFadden was Schwartzstein's backup. And he was about to make his college football debut.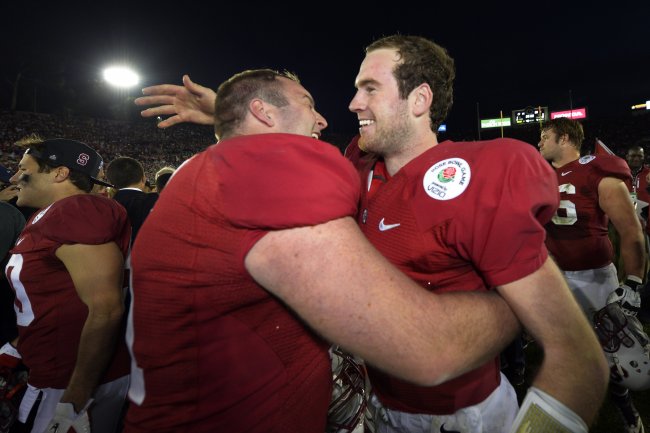 Mark J. Terrill
"Everyone was looking," McFadden recalled. "I said, I'd done this before, worked with the first team a lot. … I almost took the quarterback's head off with the snap. I rifled it. Luckily, we had a good athlete playing there at the time. I made the block, made a good play and came off after the play. It was a 'wow' moment."
It was a moment of "wow," of excitement, of validation.
See, McFadden was a walk-on. And this was his college football debut. Overlooked by major college football programs while growing up in the Twin Cities area, he walked on at Stanford and carved out a role for himself, eventually earning a scholarship and putting himself on track for a degree in public policy.
That play was a realization, he said, "that I can play at this level."
"You can't discount the drive and hunger that being a walk-on gives you," he said. "You want to prove you belong."
McFadden's college football journey is not that of a heralded 5-star recruit, but it is no less important. His story, and those of others like him, like friend Robbie Lemons, a Stanford guard who clinched the Cardinal's recent NCAA tournament upset of New Mexico with a pair of late free throws, are proof that college sports are about more than the superstars. The road less-traveled works too.
McFadden's road began in Sunfish Lake, Minn., a small Twin Cities suburb. He played high school football at St. Thomas Academy and was a first-team Minneapolis
Star Tribune
All-Metro selection and a second-team All-State
selection
, per the Associated Press. But he was also 6'2", 250 pounds and didn't exactly receive much attention from major college football programs.
"Notre Dame came to school and they pulled me out of class," he said. "The recruiter took two looks up and down, and I was 6'2", 250. He never called back."
McFadden's father, Mike, put a high premium on academics, and Conor was set to go to Princeton and play football there. But the Tigers had a coaching change in late 2009, which led him to re-examine his choice.
His father received an email from Stanford, which had watched his highlight tape and was interested in exploring his status as a preferred walk-on.
"I said it'd be a cold day in Hell before I went to college in California," he said. "I ate my words very happily."
On that mid-January day, it was 65 degrees warmer in the Bay Area than the Twin Cities, which brightened McFadden's mood immediately.
"The combination of playing for a coach like Jim Harbaugh, who believed in me the moment I stepped on campus, and it being 60 degrees when I landed vs. negative-five when I took off sealed me," he said.
Stanford's application deadline had already passed, and the help McFadden received in expediting the admission process was one of the only true favors he got as a preferred walk-on.
He received no scholarship money, and NCAA rules did not allow him to receive any extra preference in applying for scholarships or grants.
"It was very similar to what I would have received in the Ivy League," he said. "There was no scholarship offer. It was a way to get into school and be a part of the team."
Once he was on campus, there was the matter of, well, proving himself. McFadden admits he was "one of the worst athletes you can possibly imagine on the Stanford football team. Too small, too slow, every single excuse in the book."
To earn the attention of Harbaugh and offensive coordinator/offensive line coach Mike Bloomgren, McFadden used his best weapon: his mind.
He has a near-photographic memory and is a football
savant
capable of instantly diagramming plays on a sideline whiteboard. In college football, where teams are not allowed to use aerial cameras like NFL teams use to capture action from above and relay it to the sidelines, this is a very valuable skill.
He traveled with the Cardinal and helped the offense discover defensive tendencies on the fly, leading to offensive success.
"It helped me in terms of understanding the playbook," he said. "Learning the playbook can be pretty complicated. If you don't know the plays, you can't be on the field. As a young player, I got a lot of reps even though I was nowhere near as talented as some of the other guys on the offensive line. I knew what to do and the play would get off. I might get beat on the play, but I'd try and do my job.
"Also, as a walk-on, I knew I couldn't compete physically at a young age. It was frustrating for me. I wanted to pull my own weight, be part of something, wanted to feel like I was contributing. I had to be creative and think outside the box."
Off the field, McFadden wasn't treated any differently than a scholarship player. He was part of the team. Stanford has a strong walk-on culture. Eight players who walked on with McFadden were on the two-deep last fall.
"You talk to a lot of guys, and a lot didn't even know I was a preferred walk-on," he said. "I never felt treated any differently. No different locker room, I didn't have to eat in a different place. It isn't another barrier. I think that's a real benefit and important for a walk-on program to have...It speaks volumes to the type of program Stanford is. It's a meritocracy when you come in. People aren't looked down upon. They're treated as equals."
College football's pay-for-play debate has received plenty of attention over the last year, and it went to a new level last week when the National Labor Relations Board
ruled
that Northwestern football players would be allowed to unionize, a decision that Northwestern is appealing.
McFadden says he understands the anger leveled at the NCAA, but paying players isn't the solution. Getting them better prepared for life after college is.
"I don't need more money in my pocket," he said. "With celebrities and pro athletes, money gets them in trouble. That's why college sports are so valuable. It gives kids an opportunity at an education, which is truly more valuable in the long term. Infinitely more valuable. Football, money, that stuff goes away at the end of the day."
Unionization, he said, "is going from the devil you know to the devil you don't know completely," noting that union members pay dues and students could be taxed for their earnings.
Far more important, in his eyes, is holding schools accountable for their players' academics. He is "very disappointed in the NCAA as a whole" and says "there are institutions that are willingly letting kids fail."
He favors strong sanctions for programs that don't graduate their players, calling current penalties for poor Academic Performance Rate (APR) a "slap on the wrist."
In the most recent Graduation Success Rate (GSR) ratings released last fall, Stanford had a 93 percent rate, No. 5
nationally.
Rival Cal had a 44 percent rate, the
worst
in any BCS league.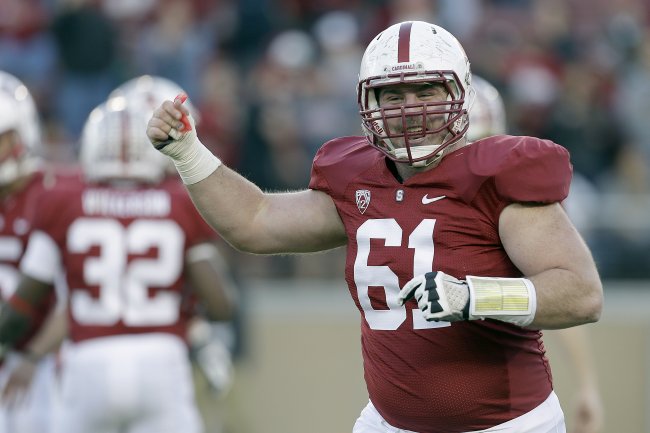 TONY AVELAR
"Cal graduated less than 50 percent of their players. It's an unbelievable school, a great school, one of our fiercest rivals. But you should never graduate less than 50 percent of your players. I'm very lucky, I took full advantage of my Stanford career with coaches and mentors. A lot of people didn't have that same support system.
"The NCAA has sold college athletics as a replacement, coaches as mentor figures in kids' lives. At some point you need to say enough is enough and we need to start doing right by these athletes."
McFadden truly appreciates the treatment he has received from Stanford and its coaches. The moment he experienced on Mother's Day 2012 was truly gratifying.
New coach David Shaw called him with some special news. He was being placed on scholarship.
"I earned the respect of my teammates and coaches," he said. "The scholarship was evidence of a job well done. Coach Shaw always talks about tangible evidence, and that's something we're always proud of doing...Accomplishing something like that was the best day of my life. I called my mom and gave her quite a present for Mother's Day. A giant tuition reduction."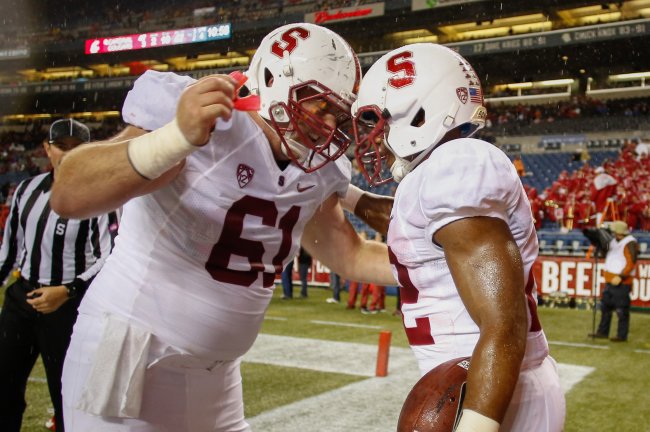 Otto Greule Jr/Getty Images
McFadden also credited Bloomgren.
"There needs to be more people in college football like Mike Bloomgren," he said. "He's always been on my side since day 1, fighting for me at every step. I'd do anything for him, and he did anything and everything for me."
McFadden's first play was fortuitous, too. His family (Conor is one of six children) had flown out for the big game and was in the stands at Berkeley.
Getting in the game was McFadden's own personal salvo at the Notre Dame and Minnesota recruiters who looked right past him, even if some of his family didn't see the actual play.
"My little brothers were off getting Mike and Ikes," he said. "It couldn't have ended any other way. That's how crazy and funny my family is. It was a very special experience."
In his career, McFadden played in six games over two seasons.
"I laughed about it that I went to the worst possible school for an offensive lineman to walk on at," he said. "We have an unbelievable offensive line that are talented and great guys at every level. We have so much talent and they're such quality human beings. If you're part of the Stanford offensive line tradition, you realize, 'Wow, I can play at this level.' The hardest people I ever blocked were at practice, no question in my mind."
Before last season, McFadden came to what he called "the toughest decision I've ever made."
His father Mike is one of six candidates running for the Republican nomination to face incumbent Democrat Al Franken in the 2014 general election for one of Minnesota's two U.S. Senate seats.
Conor decided that he would take a one-year leave of absence from Stanford to work on his father's campaign. He had a year of football eligibility left and could have challenged for a starting job this fall.
However, leaving meant that his eligibility clock (players are given five years to play four, and Conor had already redshirted) would expire, ending his collegiate career.
"Stanford football has been a family to me," he said. "I came extremely close in fall camp to earning the starting job, and it's something I really wanted. I knew if I stayed for another year, I'd have a chance to win the starting job. But I'm the oldest of six kids and that's what families do. Dad really needed my help."
McFadden admitted he was worried about his team's response, but he says the support has been extremely gratifying.
"The outpouring of support and tears has been unbelievable," he said. "It'll be a little tough next year watching them run onto the field, but I have utter confidence in every guy on the team that they can do something special. I just won't be a part of it."
He'll be fighting a different kind of battle, helping shape his father's policies and traveling across Minnesota speaking on his behalf.
"There's not a lot of difference between politics and football," he said. "The only difference is, football has rules. I could go on and on about the lessons Stanford has helped me be able to bring to the real world and apply. I have a strong belief that we can do better."